Work Flow
From research to customer proposals and receiving orders
5. Mock-up & Improvements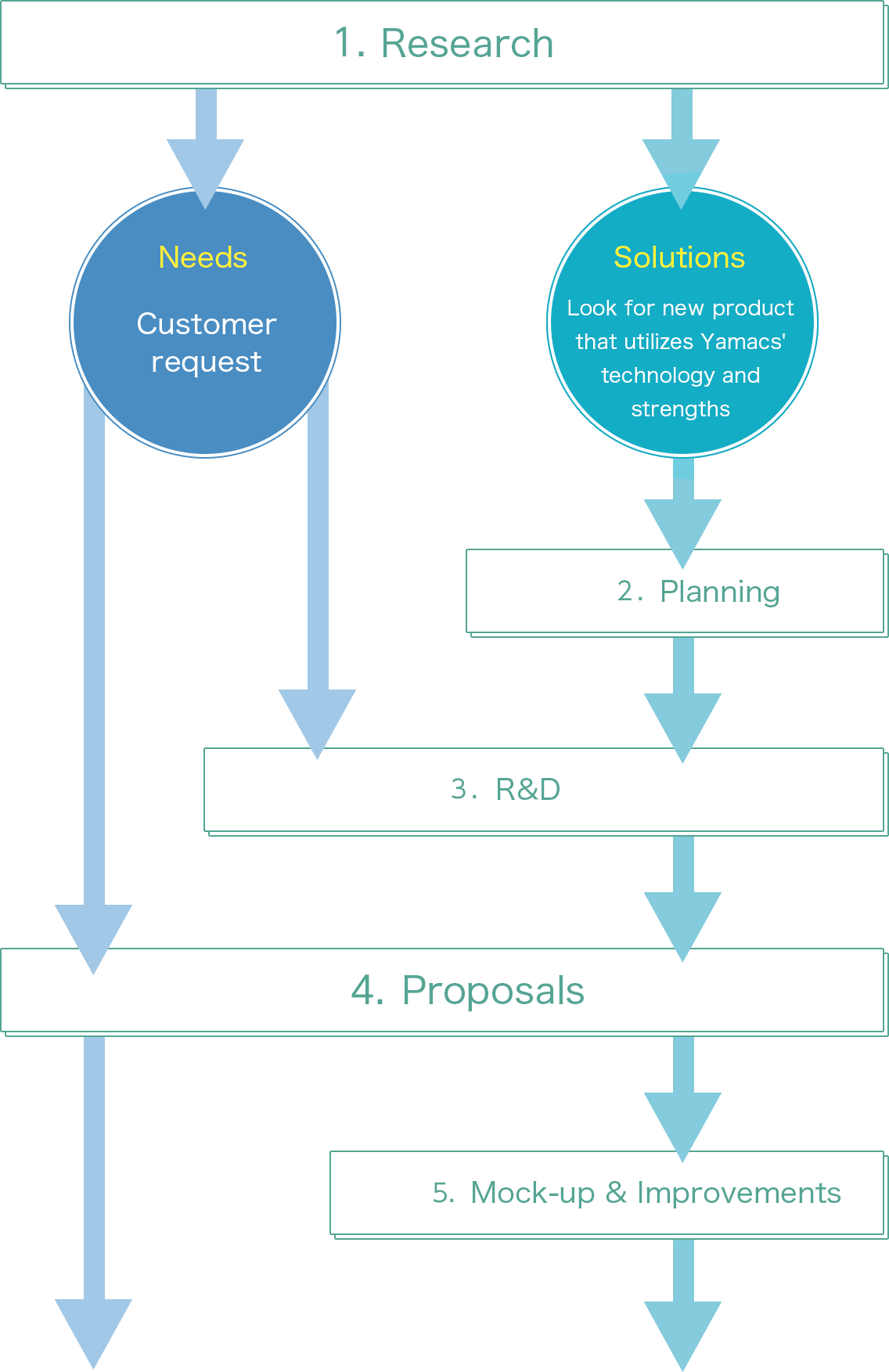 Research
Yamacs is exploring the needs of future customers as well as existing customers. For this our technicians visit the manufacturing sites of different industries looking for clues as to what to use next in print. This information we use to ensure that Yamacs' products are what's needed to solve the customer's problems. In this way we create new added value with the aim to provide it to our customers each and every day.
Planning
Yamacs holds a meeting to plan the development of new products and promote existing products based on information gathered at the solutions finding stage. Technicians as well as staff from sales and marketing come together to share their thoughts from their different perspectives.
Factoring in the needs of the market and solutions for customers, team members come up with ideas which are used in planning for product development and sales.
Research and Development
Yamacs is looking at new ways to print every day to solve a wide variety of customer issues. We continue to expand the possibilities of print by developing products impossible to work on with existing inks and technologies.
Proposals
Yamacs gives a range of proposals in line with the customer's wishes. Whether it be used indoors or outdoors, where it will be put, what will be put on it on, how long it will be used for… Yamacs factors in every last detail with how the product will be used and its cost before making a proposal.
Yamacs is also actively proposing designs with its original printing techniques.
From design specs to production and shipping
3. Color Matching &
Mixing
6. Inspection &
Shipping
1. Design Specifications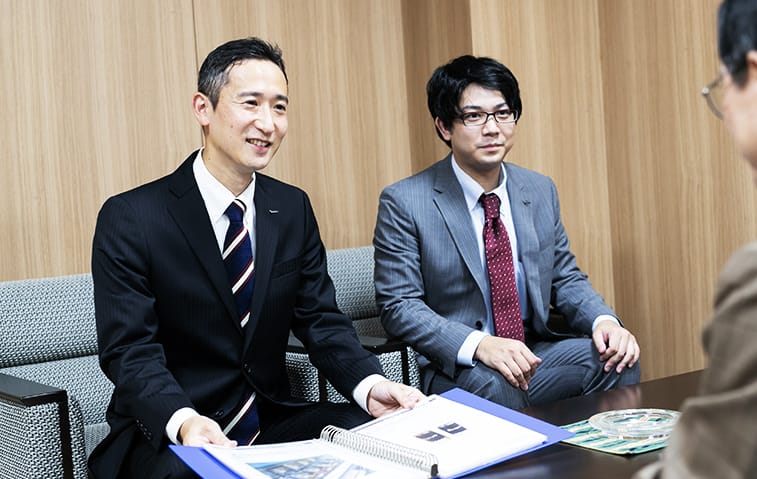 Yamacs has a test environment (accelerated weathering tester, tensile tester, etc.) to ensure designs meet the wide variety of qualities required.
While making the best use of the performance data which we have built up to date, Yamacs gives the customer proposals for the most suitable products based on the many different factors requested, such as cost, quality and impact on the environment.
2. Platemaking(data editing +
platemaking)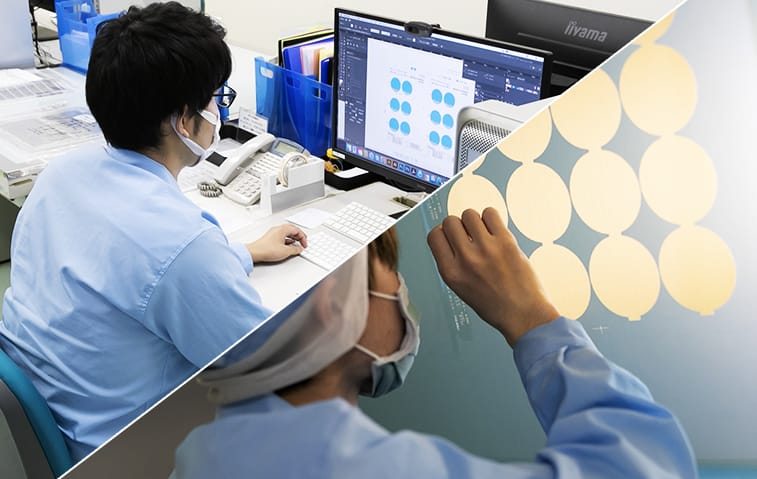 Using the latest macOS Yamacs creates data quickly and reliably.
This data is then faithfully reproduced in relief plates for printing stickers, press plates for printing silk screens, direct digital platemaking, and in photographic emulsions at the micron level.
3. Color Matching & Mixing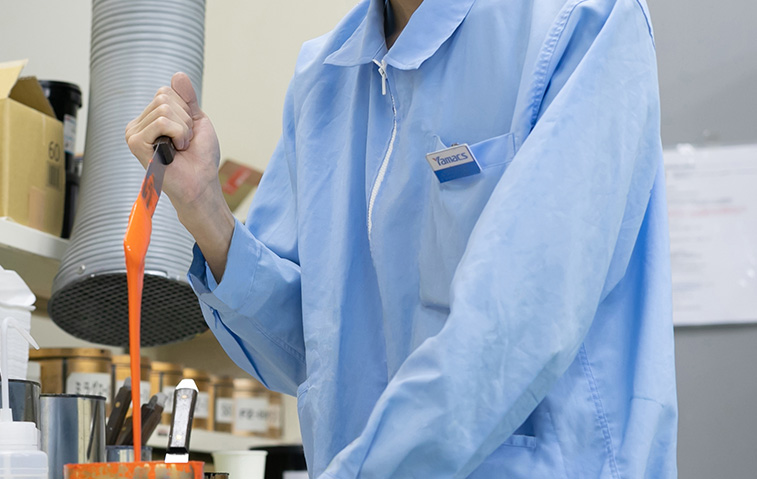 The making and mixing of colors for silkscreen inks is done to various specifications for indoor and outdoor use, etc.
If we cannot meet our customers' needs with existing inks then we develop our own original inks to make sure the customer gets just what they want.
4. Printing
Sticker Printing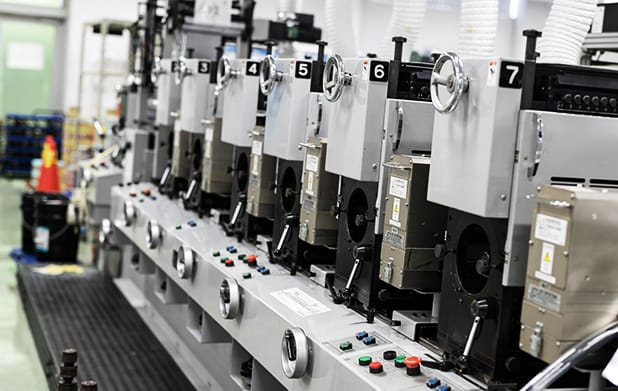 Yamacs manufactures point-of-purchase (POP) displays that meet the various needs of our customers by customizing our own printing units and special processing equipment geared towards relief printing.
Our set up also ensures we can provide high-quality products quickly even for large runs.
Rotary Offset Printing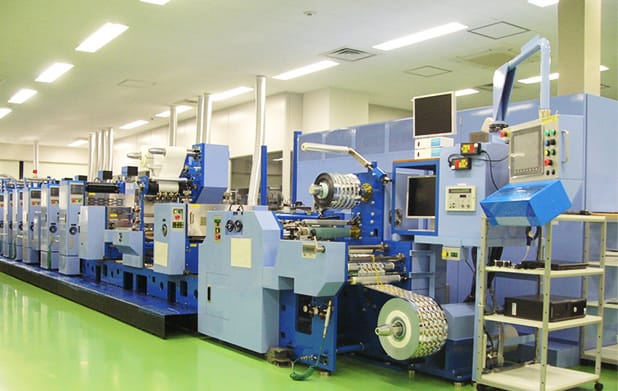 A big advantage of rotary presses is that they can print large quantities at high speed and at low cost.
These presses are able to reproduce photos and colors to a high degree and help keep costs down by being able to roll out large quantities.
Silkscreen Printing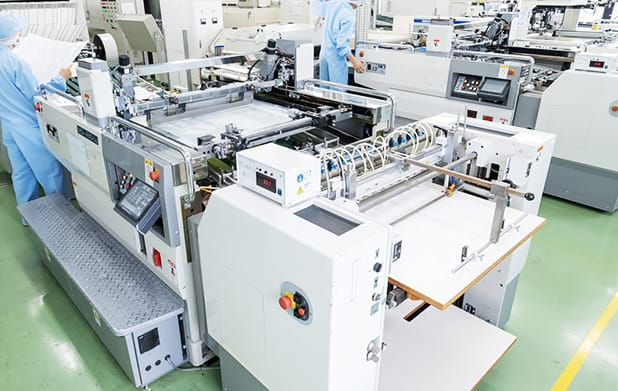 Yamacs handles all customer requests from the type of printing (semi-automatic, fully automatic, roll-to-roll) to quantity and how the end product will be delivered.
Yamacs also specializes in manufacturing panels and stickers in specified colors (spot colors) using the highest grade ink.
Digital Printing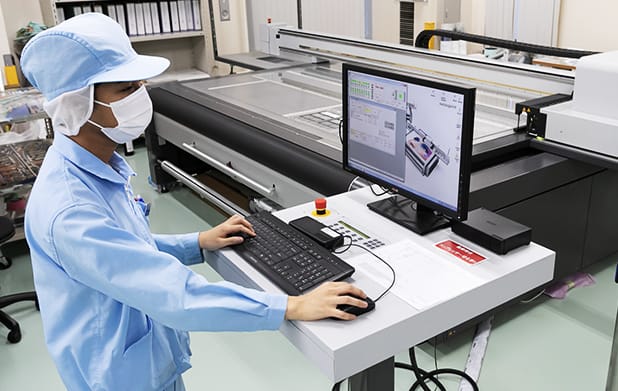 Digital printing is done with an inkjet printer able to handle the required specifications of color separation, variable design, large format, and durability.
This kind of printing does not require a plate and is widely used with images of very high-quality in the same way as offset printing.
Hybrid Printing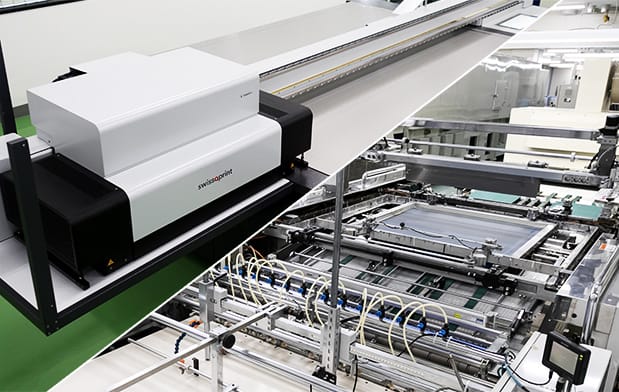 Hybrid printing is digital printing combined with other print methods.
By combining the strengths of each print method to achieve both design and functionality new possibilities can be brought to life.
5. Finishing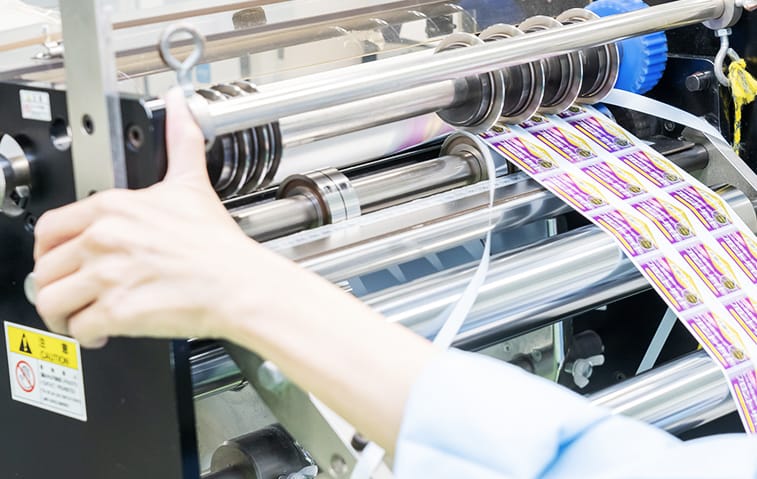 After a job is printed the next stage is the finish. No matter how short or long the run, Yamacs takes care of all the finishing including sticking (laminating / double-sided tape / protective tape), perforating (holes / half-cut), and cutting / trimming.
Yamacs is able to take care of any special requests making sure you get the finish you want.
6. Inspection & Shipping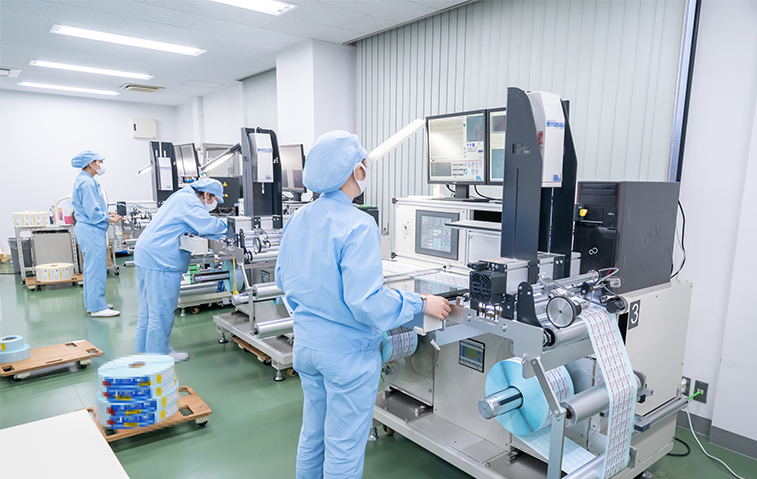 With stringent quality control checks by camera and visual inspection, the final product is shipped for use safe in the knowledge that the highest standards have been met.
Products are packaged and delivered quickly to the address of your choice.